Follow Montgomery Boosters:
MHS Boosters Presents:
Golden State Warrior Ticket Raffle
$20 per Raffle Ticket
Winning Ticket to be Drawn October 15th!
Click HERE to Purchase Tickets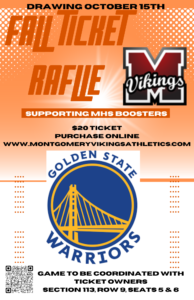 Save $$ and Support our Student Athletes by Purchasing a Booster Card!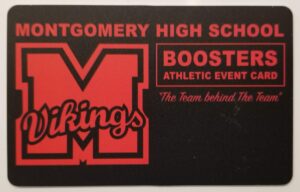 FREE admission to ALL MHS regular season HOME games (Football, Soccer, Volleyball, Basketball & Wrestling).
Discounted admission to most away games.
60% of the money goes back to the Athletic Department.
40% goes to Boosters to fund Coaches Requests and on-going projects.
$40 per Card or Purchase a Family Pack (4 cards) for $140
Click HERE to Purchase You Booster Card