We are proud of our Montgomery athletic teams.  Over 500 participating athletes each year.  Take a look at your 2017/2018 Montgomery Vikings season schedules, photos and team information.
Let's Go VIKES!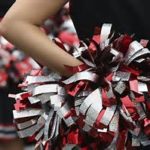 Current Events - FANFEST
We are starting to recruit for FanFest 2018!  Come to our next meeting on Feb. 5th, 6 PM in the Viking Room.  Lot's of jobs, large and small - we can find something that works for you!
FanFest Tickets on sale NOW!  Come join us celebrate our Viking Community on April 14th, 2018.
Advertise in our publications
Come to our next meeting on Feb. 5th - 7 PM
Montgomery High School Booster Club
"The Team Behind The Team"

The athletic booster club is dedicated to raising funds for developing our athletics program.  We are committed to our student athletes, coaching staff, and trainers by promoting and being leaders in positive sportsmanship.  We encourage participation in high school athletics and are proud to give our funds to each sport program for our over 500 students participating in Montgomery athletics each year.  Our fundraising efforts can be seen throughout the campus from uniforms, athletic facilities, athletic equipment, sports equipment for special day classes, transportation, and by preserving our sports history and traditions at Montgomery High School.  "We are the Team behind the Team!"